2019 SUMMER PROGRAM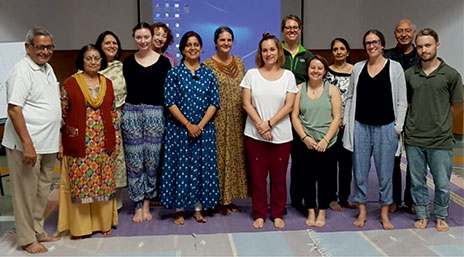 The fifteenth International Summer School for Jain Studies (ISSJS), which began on June 12, successfully came to an end on July 30. This year, the ISSJS conducted five programs which included Four-Week (4W) Jain Studies program for UG and PG students, Six-Week (6W) Jain Studies program for faculty and researchers, Three-Week Jain Yoga program for MA Yoga students from LMU, Three-Week Prakrit program for Graduates, Post Graduates, Faculty and Teachers, and Teaching for Peace (TFP) program for high school teachers. These programs started at Vijay Vallabh Smarak Jain Mandir, Delhi; after that these groups spread to different venues like Dharampur, Pune, Jaipur, Ladnun, Jalgaon and Pune. This year there were 43 participants enrolled from USA, Spain, Germany, Sri Lanka, Ethiopia, Japan, Taiwan, Vietnam, Indonesia and India.
ADMISSION OPEN FOR 2ND WINTER PROGRAM ON JAIN STUDIES
A Free* and Unique Opportunity to Study Jainism in Winter Holidays. We are happy to announce that we are organizing the 2nd Winter Program on Jain Studies. Below are the brief details of the program:

Target Participants: Undergraduate students, graduate students, PhD candidates, Professors, and faculty members of universities abroad and India, High school teachers and Jain professionals who wish to have experiential Immersion in Jain philosophy and way of life. University affiliation not essential.

Place: Ahmedabad (Gujarat), India. Home of Gandhi, Jainism and finest academic institutions in India.

Duration: December 28th, 2019 - January 7th, 2020. The program includes two days visits to famous Jain temples, monks, and institutions around Ahmedabad.

*Refundable security deposit: US$ 100 or it's equivalents in Indian Rupees by cheque in favour of International School for Jain Studies. Click here for more details
PROF. CHRISHTOPHER CHAPPLE COMING TO ISJS FROM AUGUST 15th TO DECEMBER 15th, 2019
Prof. Chrishtopher Chapple is the Doshi Professor of Indic and Comparative Theology and Director, Master of Arts in Yoga Studies at Loyola Marymount University, USA. Prof. Chapple is coming to ISJS as a Fulbright-Nehru Scholar and he will be available with us from August to December, 2019. He will be delivering talks and workshops on Yoga & Karma in Jainism and comparative studies in Buddhism and Patanjali Yoga. The first such lectures are arranged as follows:
One Day Workshop on Comparative Studies of Karma: on 4th September, 2019 at Firodia Hostel, Pune. Click here for more details
Two Day Residential Workshop on Exploring Yoga, Meditation and Tantra in Jainism: on 6th & 7th September, 2019 at Navalveerayatan, Pune.Click here for more details.
ISJS will be happy to schedule one such talk at your university or institute. Please contact Mr. Sushil Jana on +91-99112 22593.
ISJS START BUILDING A CADRE OF YOUNG PRAKRIT LANGUAGE SCHOLARS
ISJS has taken the first step by recruiting scholars, one each from University of Chicago, USA (Mr. Itamar Ramot, PhD candidate) and SOAS, London (Ms. Corinne Smith, MA) to come and learn Prakrit with ISJS affiliate for one year. Mahavir Vision Inc., USA provided financial support to provide handsome scholarships to these two candidates. Mr. Anando Ghosh (MA, SOAS, University of London) from India is the third scholar who will learn Prakrit for 1 year. Shri Firodia Trust, Pune will provide financial support to Mr. Ghosh. Their education likely to starts from September 25th 2019 at Pune with AIIS.
STATUS OF ISJS-ALUMNI
Dr. Shivani Bothra
(ISSJS-2012 batch) is appointed as a lecturer in South Asian traditions, with an emphasis on Jainism and Hindi, at the University of California, Santa Barbara. She has recently completed her doctorate degree from Victoria University of Wellington, NZ. She did her Master's degree at Florida International University, USA. Before joining the M.A program in 2011, she served as a Jaipur program coordinator at the International Summer School for Jain Studies. Her main area of research is transnational Jainism. She has presented in many national and international conferences in the field of Religious Studies and particularly Jainism.
Ms. Aashi Jain
(ISSJS-Winter 2018 batch) is recently accepted into University Graduate School at Florida International University (FIU) as a student in the Steven J. Green School of International and Public Affairs- Master's degree program in Religious Studies. Before her selection, she served as group coordinator of Yoga program for Loyola Marymount University (LMU) students in the summer school conducted by International School for Jain Studies (2018 & 2019). Her area of research interest is origin, development and praxis of devotion with special reference to Jain method of Spiritual Mantra Healing.
UPCOMING OPPORTUNITY FOR JAIN SCHOLARS IN INDIA (foreign scholars are welcome but travel to India and back is on their own account)
INTERNATIONAL SEMINAR ON ŚRAMAṆA TRADITION: International School for Jain Studies (ISJS), New Delhi in association with The Bhandarkar Oriental Research Institute (BORI), Pune is organizing two days International Seminar on ŚRAMAṆA TRADITION (WITH SPECIAL REFERENCE TO JAINISM) PRIOR TO 650 BC on 5th & 6th October, 2019 at Naval Veerayatan, Pune. ISJS and BORI invite scholarly abstracts and papers for this seminar. Please send your abstracts by 21st August, 2019 to seminar.isjs@gmail.com Click here for the brochure
Winter Program: After successful completion of 1st Winter Program, ISJS happy to announce 2nd Winter Program in Ahmedabad, India from 28th Dec, 2019 to 7th January, 2020. For online application visit www.isjs.in, click here for poster.
ISJS-Transactions (Online Research Journal): The first issue of this year (Jan-Mar, 2019) is available for readers Click here for the issue. ISJS invites the original and unpublished articles/research papers for the journal. Articles/research papers may send through email along with credentials and area of specialization to us. You can also send us your suggestions for improving the Journal. Earlier editions are available at: https://www.isjs.in/isjs-transactions

For details, please write to us at: issjs.india@gmail.com or dr.snpandey1981@gmail.com
NEW PUBLICATIONS
A book on 'Essence of Sallekhana' was released on 29th July 2019. The book is published by Department of Jainology, University of Madras, Chennai. Shri P. S. Surana and Shri Kishan Chandji Choradiya were the Chief Guest of the book release function. The Book is a proceeding of the seminar on Sallekhana organised by International School for Jain Studies, New Delhi and Departement of Jainology, University of Madras, Chennai on 18thand 19th Febraury, 2016. Prof. Jayantilal Jain and Dr. Priyadarshana Jain are the editors of the book.
Second version of popular book Gandhi and Jainism by Shugan C Jain has been released with substantial sales already. You can buy it from www.amazon.in or write to isjs.india@gmail.com for your copy.
National report on Sociological Study of Jain Community, a major project of ISJS is now available as e-book online at http://online.pubhtml5.com/hkhn/cwik/, please go through it and send your suggestions and comments.
ACTIVITIES BY OTHERS
JAINA Convention 2019: Dr. Shugan C Jain, Chairman of ISJS came back to India on 8th July, 2019 after attending the JAINA Convention. Dr. Jain delivered lecture on Gandhi & Jainism and Introduced International School for Jain Studies as well. In this convention Dr. Shugan Jain met Dr. Sulekh Jain, Dr. Jasvant Modi and Dr. Nitin Shah (left to right in the photograph).